It's a bit easy when you wear sample sizes, you simply grab the latest new trends off the racks, or duplicate the look of the mannequin that was meticulously dressed and placed by the shop's window. Replicating the look doesn't require much effort, or great sense of style especially if you don't need to make any type of adjustments based on height, weight, complexion. No Chaser had a chance to catch up with Jonathan Alexander Edwards who has mastered the art of proportions, and the guy who might just make you second guess your outfit when he steps into the room.
How tall are you?

I think it's 6-7".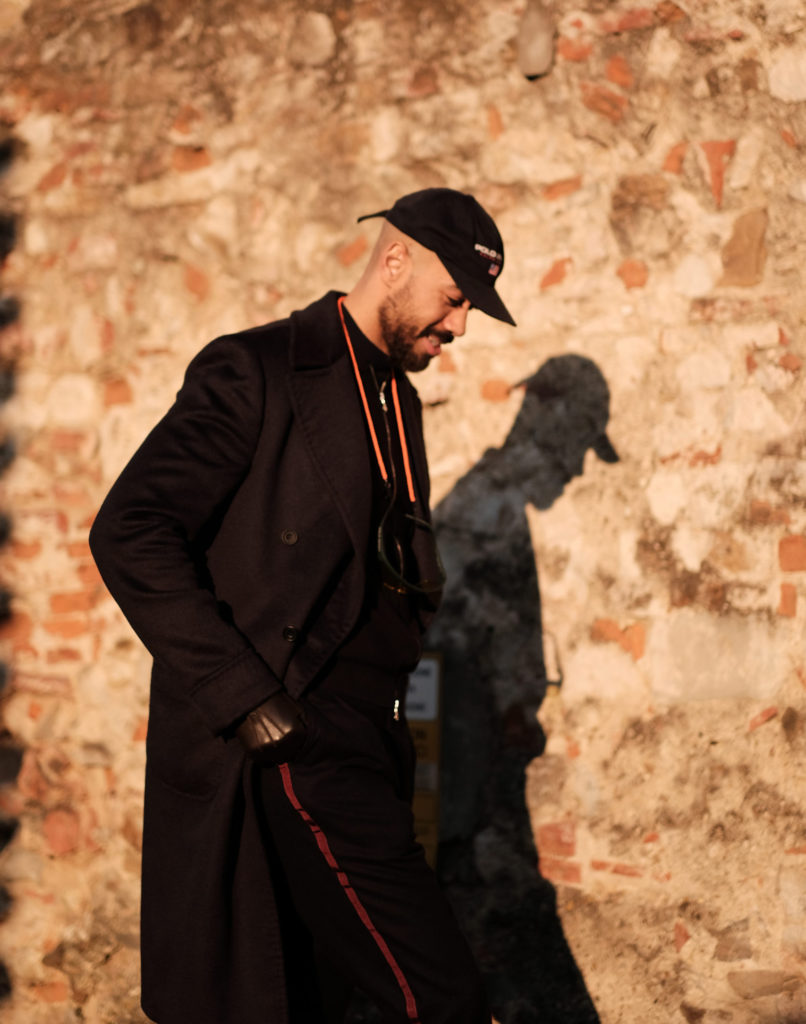 Because of your height and complexion, what are pieces you look for and shy away from?

A few years ago as you'll recall in the world of menswear there was a trend for shorter trousers, landing on or above the ankle bone. It just didn't work on me in the same way it would on a regular height man. For him it's a conscious style statement.
I've always liked a full cut trouser that fits 'high' on the waist, and has some break at the shoe ideally. I believe that is the most flattering for my build.
Complexion: in winter I'm a lot paler, so even though I love camel tones and beiges and think they look great when I've seen them on both lighter and darker complexions than mine, I prefer some contrast. I like white, black and navy blue at all times of the year.
What should tall guys keep out of their closet?

I can't speak for other tall guys, all I can say is for my own body, I don't like super slim-fitting, or the aforementioned short trousers.
Why bespoke/custom pieces?

Twofold. One is simply my height and build. Weight training is my hobby, that plus my height just means off-the-rack would be near impossible to get a decent fit in tailoring. The second answer is that I'm most likely a wannabe designer deep down and I'm always thinking of ideas and concepts that might not necessarily exist in the formula that I might want them in. I have a million ideas in my head at any one point.
Like yourself, I very much enjoy the aesthetic of old Italian cinema. Broadly speaking, you just can't find that type of garment made RTW these days.
Of course, also when you work with tailors a lot, they can become good friends and that's certainly been the case for myself. You're then part of that world so to speak, so often they will speak to me about new design concepts they are thinking of.
3 of your favorite brands and why?

(Outside of custom clothing).
I should start by saying I'm a huge supporter and customer of many independent and small artisan brands within the world of menswear. Too many to list.
So I would frame this question slightly differently – my two favourite reference points will always be 80s era Giorgio Armani and the Ralph Lauren body of work and its cinematic advertising. Both of them built their own idiosyncratic dream worlds. You see those archive adverts and you want to live in them. They both have a longevity to their viewpoint which I respect enormously. Having said that, I don't think I own a Giorgio Armani piece in my present wardrobe, even though I'm heavily influenced by his aesthetic. I've certainly bought things by other brands and had pieces made bespoke to emulate his canon of work though.
I wear a lot of Ralph. I'm a collector of sorts of the stand-out pieces one might associate with the older iconic campaigns and runway shows. When I buy, my personal taste is always for clothes without logos – but you know in an instant "that's very Ralph" to quote the documentary. I love the RRL brand too. Meeting and speaking with Mr. Lauren briefly was a dream come true.
In terms of what I wear consistently and most days of the week, then I would have to say John Smedley merino wool knitwear. It's a beautiful simple product, the perfect base layer to other pieces and they are washable and don't shrink or bobble which is important to me as, where possible, I tend to avoid 'luxury' clothes that need a lot of special care.
Favorite season to dress?

There's sometimes a fantasy answer and a pragmatist's answer with these things.
In theory the classic answer in #menswear is generally 'winter' for the chance to wear a thousand pieces at once, but for me, all of those beautiful wool and cashmere overcoats…. I don't tend to like wearing them too much in the heavy rain! If you're guaranteed a dry day, then yes.
Hard to beat an all white linen outfit in summer.
Style inspirations:

Music videos. For me I like to see clothes move and the outfit being part of a wider story. The Jackson family created and defined the genre. They created iconic looks that defined an era.
Mid century Italian cinema.
Italy. Both real and imagined versions. Naples.
Yohji Yamamoto.
Edward Sefton.
Mid century soul artists and how they wore their clothes, e.g. Sam Cooke, Marvin Gaye and many more. Again, movement.
I also like to learn about foreign cultures and traditional attire via books and travel. Particularly Native American and Japanese cultures. Is there a way pieces can be respectfully and harmoniously incorporated into your own aesthetic.
First (or most memorable) style story:

I'm going to give a perhaps more mundane response here, as I don't have any particular anecdote to point to in early life, but this answer is more authentic to my story. I'm from a family where pretty much everyone is into clothes to a varying degree, not always as a constant but at various points in their lives. We all like to look our best and have an eye for quality. So I'd say 'It's just the way it has always been'.